Welcome! Here you will find information and activities related to the revised Cakes for the Queen of Heaven curriculum and its use in Unitarian Universalist congregations and in other organizations. This site is a combined effort of Unitarian Universalist Women and Religion core group and various Cakes and W&R groups.
---
Rise Up part 2 in Athens GA
Sunday, July 16, 2017, 01:30pm - 03:30pm

by
This email address is being protected from spambots. You need JavaScript enabled to view it.
Explore the Divine Feminine with the Goddess Group
The Goddess Group is a circle of women who are exploring their inner goddess through appreciation and participation in the arts, everything from crafts to fine art, to gardening and nature walks, to singing and dancing and drumming, to reading and writing, to cooking and sewing.  The group formed following study of the Unitarian Universalist Association's curricula about thealogy (the study of the feminine aspect of the Divine, i.e. the Goddess), "Cakes for the Queen of Heaven" and "Rise Up and Call Her Name."  Ritual, conversation, sharing, and caring are part of the group's ongoing ministry to each other.
Meeting Time and Schedule
The group typically meets the third Sunday, at 1:30 pm in the Fellowship Hall. For more information on The Goddess Group, contact Myrna Adams West, Lay Minister for Spiritual Arts, at This email address is being protected from spambots. You need JavaScript enabled to view it. or 770/725-5397,  or one of the Lay Ministers for Lifespan Development, Aleta Turner at This email address is being protected from spambots. You need JavaScript enabled to view it., or Vivian Preston Sellers at This email address is being protected from spambots. You need JavaScript enabled to view it..
Please note: Occasionally it is necessary to change the meeting times because of other activities at the Fellowship. Myrna will try to let you know in plenty of time when that is going to happen.
Rise Up & Call Her Name, Part 2, January-July 2017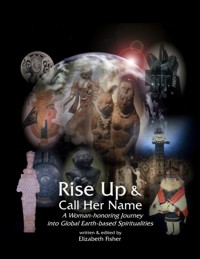 Rise Up & Call Her Name:  A Woman-Honoring Journey into Global Earth-Based Spiritualities is a journey of thought and activity.  It carries numerous qualities.  Most important among these are–
Bringing awareness of the processes of nature into our contemporary spiritual life
Nurturing self-respect in women and respect for women in men by making known the range of emotions and actions attributed to female deities and the respect accorded them in many spiritual traditions
Expanding respect for Earth-based spiritual traditions as well as the Earth-honoring aspects of several well-known religious belief systems
Opening doors to cross-cultural interaction by fostering an appreciation for the richness of diversity
January 15, 2017, Session 7: Asia—Carolina Vane, Facilitator: Moving through Asia we stop in Tibet and China and meet the popular Goddesses Tara and Kwan Yin, becoming familiar with some of the female-honoring aspects of Buddhism and Taoism. These religions teach us that compassion is an important quality to develop and that direct experience of the sacred, which is sometimes called intuition, is of considerable value. Many of the teachings of these traditions also emphasize that, when acting, it is important not to be attached to the outcome, but rather to be concerned with integrity.
February 19, 2017, Session 8: Japan—Kathy Mason, Facilitator: Culminating our Asian visit, we arrive on the islands of Japan and encounter the Shinto Goddess Amaterasu and her lessons of self-empowerment. We learn from the tale of her withdrawal and then return to society that our impact on our communities can be significant even though, at times, it is difficult to accept the behavior of others.
March 19, 2017, Session 9: Central & North America—Leigh Harvey, Facilitator: Next we move toward Central and North America. We first land in Hawaii and contact Pele, the exciting Goddess of the volcano. Here we acknowledge the ties between ecology and Earth-based spirituality and consider how the processes of the Earth are held sacred by some indigenous peoples.
April 16, 2017, Session 10–Barbara McLaughlin, Facilitator: Arriving in MesoAmerica, we meet the Goddess Tonantzin who is at the core of contemporary devotion to the Mexican Virgin of Guadalupe. We also discover the ancient Goddess Corn Mother and meditate upon the ways the fruits of our harvest become the seeds of our future undertakings.
May 21, 2017, Session 11—Rosemary Wood, Facilitator: We next touch the roots of the First Peoples of the Americas through the stories and masks of a Lakota Sacred Pipe Woman. We discover the North American continent is steeped in ancient female-honoring traditions as we encounter the American Indian Goddess White Buffalo Calf Woman.
June 18, 2017, Session 12 —_______________________, Facilitator:  Still visiting the First Peoples of the Americas, we meet Spider Woman and Changing Woman. We also consider sacred truths sometimes come directly to individuals if they are able to recognize them.
July 16, 2017, Session 13—Myrna Adams West, Facilitator: Knowing that we must return to our everyday lives, yet realizing how we have changed, we share what we have learned and explore where we wish to go from here.
Location
Unitarian Universalist Fellowship of Athens, 780 Timothy Road Athens, GA 30606, USA